Clearwater, FL, Cooling Services
Make sure your air conditioner is up to the task of keeping your house cool all summer. Call us at 727-431-5578 for AC repair and installation appointments in Clearwater, FL, and Pinellas County.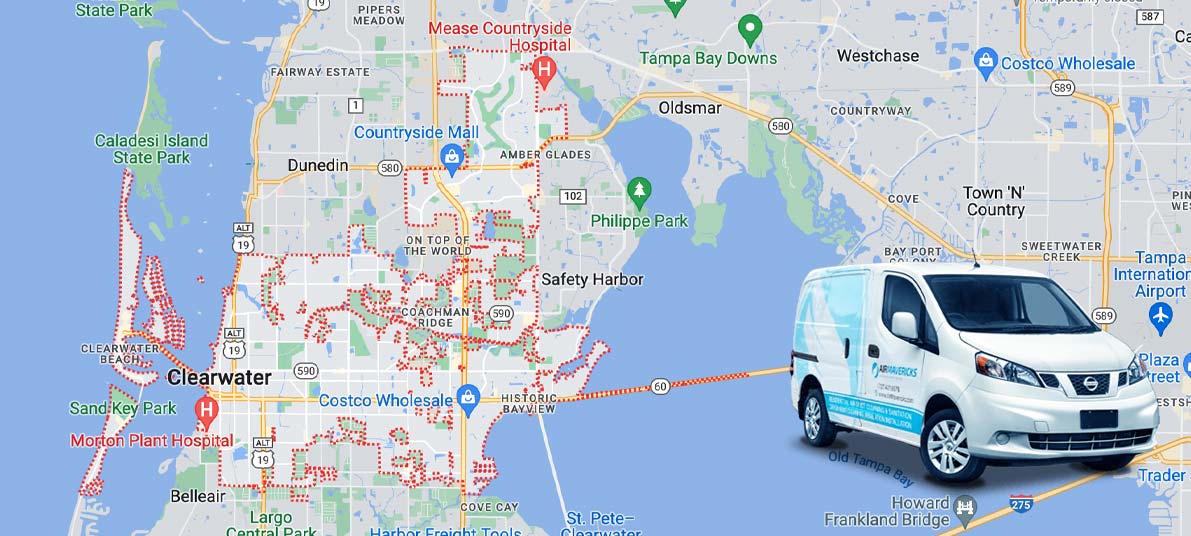 If there is moisture leaking from your unit, or if your system is making odd noises? This can indicate you need air conditioner repairs or maintenance services. Schedule an appointment with an AC contractor to have them inspect your system and make the needed repairs. Call Air Mavericks for appointments in Clearwater, FL. We offer same-day services to quickly restore comfort to your house.
We provide quality cooling services to Clearwater, including:
Commercial HVAC services
Air conditioning repairs
Air conditioning installations
Ductless mini split AC system
Evaporator coil services
Air handler services
AC refrigerant leak services
Thermostat services
Read our testimonials to find out why we're Tampa's top central AC repair company.
What To Do if Your AC Unit Is Leaking
If you see moisture leaking from your air conditioner, it's essential to schedule professional repairs. If it's refrigerant leaking from your unit, it can be dangerous and needs to be handled by a trained expert.
While you wait for a professional to arrive, you should turn off the AC unit to prevent further damage.
When the AC contractor arrives to perform central AC repair services on your unit, try to provide information about when you noticed the moisture, and if you've noticed other problems with your unit.
What's the Lifespan of My Air Conditioner?
One of the most common questions our AC technicians get from customers is "How long will my AC system last?" Unfortunately, we can't provide an exact answer to this, but we can offer estimates.
Most units last between 10 and 20 years. If it's well maintained, it can last longer. To prolong the unit's longevity, it's essential to change the filters, clean the vents and ducts, make sure the thermostat is working properly, and schedule yearly AC maintenance services on the unit with a professional.
When you need AC installations, AC tune ups, or air conditioner maintenance, call our technicians.
Are unplanned AC repairs not in your budget? Contact us to learn about our financing options.
AC Installations: Preparing for the New Unit
When you purchase a new air conditioner, it's essential to know how to prepare for the installation or replacement services.
Typically, technicians will first remove your old system.
Then, they will bring your new unit into your house.
Before installing the system, it will need to be prepped and fitted to the space. If your new system is a different size than your old one, the piping and vents will need to be adjusted to fit the new model.
AC contractors will determine if new parts are needed to complete the installation. They will then test the unit and ensure it is installed correctly.
Recent Jobs and Reviews in Clearwater, FL
Is it time to schedule AC replacement services on your aging unit? Call us at 727-431-5578 for appointments in Clearwater, FL, and throughout Pinellas County. We offer on-time services.