Dunedin, FL, Cooling Services
Don't risk having your AC system fail on the hottest day of the year. Call us at 727-431-5578 for air conditioner maintenance services in Dunedin, FL, and Pinellas County.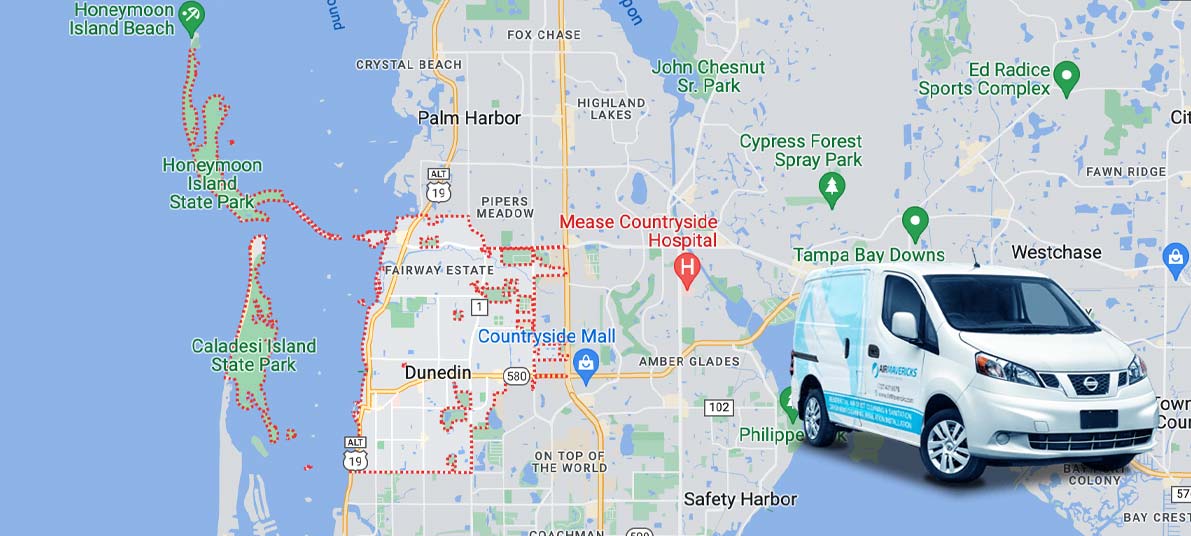 When your air conditioner fails to cool your house to the temperature setting, you need to act quickly to book AC service appointments. Let an experienced AC contractor inspect your unit, identify the problem, and repair it quickly to restore comfort to your house. Trust our technicians to do the work! Call Air Mavericks for central AC repair appointments in Dunedin, FL. We guarantee 100% satisfaction.
We provide quality cooling services to Dunedin, including:
Ductless mini split AC system
Evaporator coil services
Air handler services
AC refrigerant leak services
Thermostat services
Commercial HVAC services
Read our testimonials to see why we should be your first call when you need AC maintenance services or AC replacements.
Air Conditioner Problems? It Could Be an Electrical Issue
When your air conditioner isn't functioning properly, it might not be an issue with the AC system itself. Instead, it could be an electrical issue that's preventing the system from running correctly. Some common problems you might encounter include:
Your unit isn't turning on due to a problem with the electrical supply to the unit.
The thermostat isn't functioning, preventing the right signals from being sent to the system.
There's an issue with the compressor, causing it to fail to circulate refrigerant correctly. This can prevent the unit from blowing out cold air.
There are wiring problems that can prevent the unit from receiving the power it needs to work correctly.
There are problems with the circuit breaker, including tripped circuits. This may need to be inspected by an electrician.
What Does an AC Condenser Do?
When your air conditioner malfunctions, one of the larger repairs it could require is fixes to the condenser. Problems with the AC condenser can cause your unit to blow out warm air, or even stop working completely.
The condenser works with the evaporator coil to remove heat from the air in your house. It releases the heat absorbed by the refrigerant in the evaporator to the outside air. Without this unit, your AC system cannot properly cool your house.
If you have an issue with your condenser or suspect it's not working correctly, call our technicians at Air Mavericks for appointments in Dunedin.
Contact us to learn about our financing options. We can take the stress out of air conditioner repairs.
Common AC Fan Motor Issues
A common issue you might experience with your air conditioner is problems with the AC fan motor. Some frequent problems our AC contractors often see are:
The fan motor fails to turn on.
The unit is not working properly, resulting in warm air being blown out.
There are strange noises coming from the fan motor. This can indicate an issue with the bearings or other components.
The fan motor is overheating. This can cause your unit to stop working completely.
A fan motor that continuously runs. This can indicate a problem with your thermostat or a larger problem with your AC unit.
Recent Jobs and Reviews in Dunedin, FL
Do you need AC tune ups or air conditioner repairs? Call us at 727-431-5578 for appointments in Dunedin, FL, and throughout Pinellas County. We offer straightforward pricing.