Dunedin, FL, Heating Services
Don't delay when you need furnace repairs. Call us at 727-431-5578 for heating services in Dunedin, FL, and Pinellas County.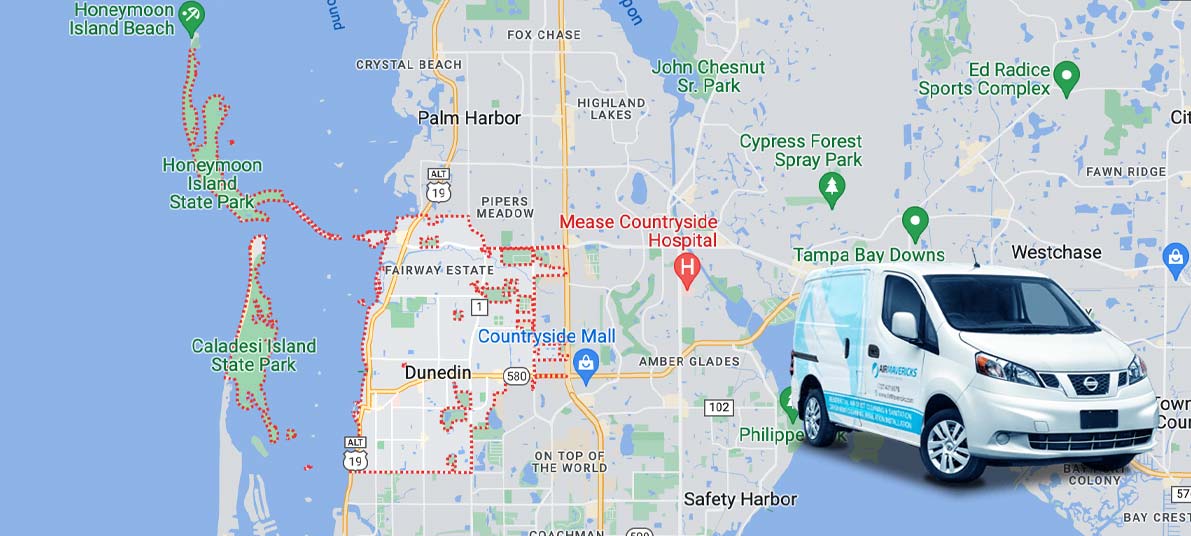 Don't risk being left in the cold this winter with a malfunctioning heater or furnace. Instead, call for furnace repairs at the first signs of an issue with your system. If you hear odd sounds coming from your unit, or if your house isn't warming to the desired temperature, you need to act quickly to repair your unit. Call Air Mavericks for appointments in Dunedin, FL. The area's top heating repair company, we offer on-time services!
We provide quality heating services to Dunedin, including:
Commercial HVAC services
Heater repairs
Heater installations
Filter replacement services
Furnace repairs
Furnace installations
Thermostat services
Heat pump services
Read our testimonials to find out why we're the top choice for heating repairs in Dunedin.
How You Can Prevent Heater Issues
To reduce the chances of your heater failing in the middle of winter, it's essential to take precautions before the chilly temperatures arrive. Our heating contractors recommend scheduling heater maintenance and heater tune ups on your unit at least once a year.
Having these services performed will allow technicians to identify any problems that might lead to your unit breaking down later, and lets them replace worn-out parts during the inspection instead of waiting until they completely break later.
To schedule heater maintenance or heater repairs, call our professionals at Air Mavericks.
When Is the Best Time To Schedule Heater Maintenance?
Do you typically not even think about your heater until the cold weather arrives over winter? If so, you may already be behind schedule for booking your annual heater tune-up.
Our technicians suggest booking heater tune-ups before the cold weather arrives, ideally in late summer or early fall.
This will give the technicians time to make any necessary repairs before you start to regularly use your system over winter.
We offer financing options to help with your unexpected heating replacements. Contact us to learn more.
Furnace: Replacement vs Repairs
How do you know when it's time to schedule a furnace replacement instead of furnace repair services? The best way to determine when you need to install a new unit is by having professionals inspect your system.
You should also consider how old your system is. The average life expectancy of a system is 15 years old. If your unit is nearing this age, then it can make sense to install a new system instead of spending money on repairs if you're going to need to replace it in the near future anyways.
Our technicians also recommend considering the cost of the repairs. If you are facing an expensive repair – especially if it is more than 50 percent of the cost of a new unit – then it can be more cost-effective to install a new system.
Call our furnace contractors at Air Mavericks to have them inspect your system to determine if you need central heating installations.
If you need to schedule furnace installation or heating maintenance services, call us at 727-431-5578 for appointments in Dunedin, FL, and throughout Pinellas County. We use the latest technology.