Pinellas Park, FL, Heating Services
Keep your heater working properly with frequent heating maintenance and timely repairs. Call us at 727-431-5578 for heating services in Pinellas Park, FL, and Pinellas County.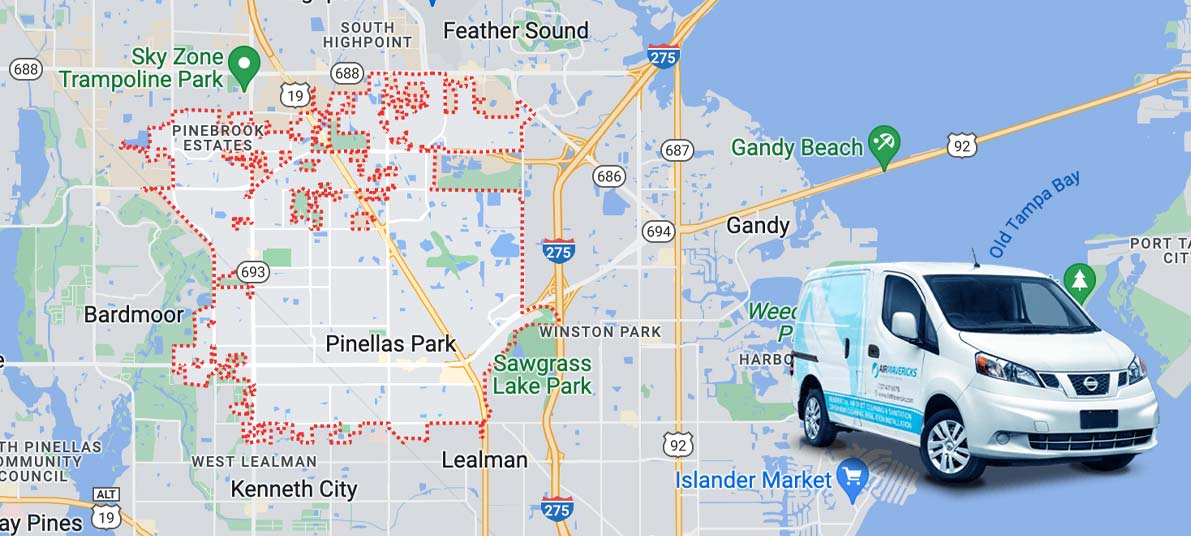 Make sure your heater works when you need it this winter. You can avoid having your unit unexpectedly break down by scheduling regular maintenance on your system. Whether you need a heater tune up or repairs, let the professionals perform the work to ensure your system is fixed correctly.  Call Air Mavericks for appointments in Pinellas Park, FL. We offer same-day services!
We provide quality heating services to Pinellas Park, including:
Heater repairs
Heater installations
Filter replacement services
Furnace repairs
Furnace installations
Thermostat services
Heat pump services
Commercial HVAC services
Read our testimonials to find out why we're the go-to heating repair company in Pinellas Park.
Why Is Part of My Home Warmer Than Others?
If you notice certain rooms of your house are warmer than others, it can signal there's a problem with your heater or furnace.
When working correctly, your unit should send the right amount of warm air into each room to keep your house at a comfortable temperature.
If this isn't the case, and certain rooms are hotter than others, then an expert should inspect your unit or perform a furnace tune up to ensure it's working correctly, and look at your ducts to make sure there are not any leaks.
Should Your Thermostat Be Set At "On" or "Auto"?
In the winter months, should you keep your thermostat set to "On" or "Auto"? This is a question our furnace contractors get often, and we understand why. This can be a confusing issue.
Our technicians offer the following guidance and pros and cons for each.
Leaving your system in the "on" setting lets the air cycle through your system continuously, which gives you better indoor air quality. This can also help heat your home evenly. However, this setting can result in higher utility bills.
Setting your unit to "auto" causes your system to only turn on when it needs to heat your house to the temperature on the thermostat. This uses less energy, but it can cause more wear and tear on your system as it's turning on and off more frequently.
Do you need a central heating replacement? Ask us about our financing options.
Common Electric Heater Issues
Is your heater not functioning properly? It can be due to one of these common issues our heating contractors encounter often in Pinellas County, and how they troubleshoot them:
No power: They will make sure the power cord is properly connected, and that the outlet works correctly. They will also check the heater's control settings.
Inadequate heating: Contractors will ensure the thermostat is set correctly and that the heater is the appropriate size for the space of your home. They will also clean any dust or debris from the heater's components.
Overheating: This issue could be due to a malfunctioning thermostat or a blocked airflow. Technicians will clean or replace the air filter and ensure that the heater has enough space around it for proper ventilation.
Do you need furnace repairs or central heating installations? Call us at 727-431-5578 for appointments in Pinellas Park, FL, and throughout Pinellas County. We guarantee 100% satisfaction.