Seminole, FL, Cooling Services
When you need air conditioner repairs or tune ups on your system, call us at 727-431-5578 for appointments in Seminole and Pinellas County.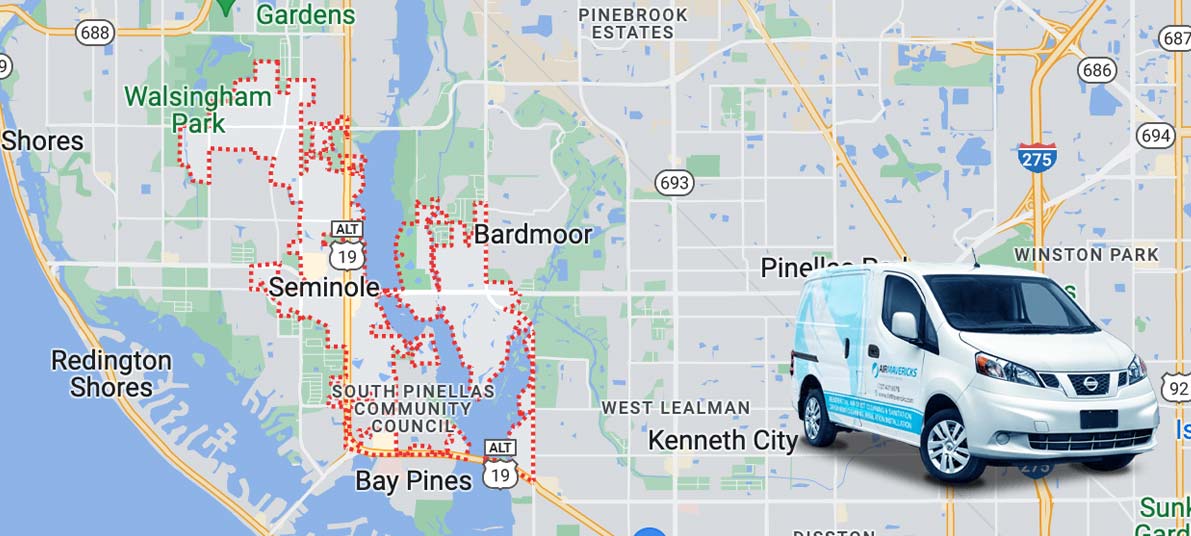 If your air conditioner is starting to falter, don't wait until it completely breaks down before scheduling professional repairs. Instead, get help quickly to avoid having to endure a hot house over the summer. Call Air Mavericks for appointments in Seminole, FL. We guarantee satisfaction to ensure our customers are happy with our work.
We provide quality cooling services to Seminole, including:
Ductless mini split AC system
Air handler services
AC refrigerant leak services
Evaporator coil services
Thermostat services
Commercial HVAC services
Read our testimonials to find out why we're Seminole's top air conditioning repair service company.
Common Air Conditioner Services We Perform
At Air Mavericks, we offer complete air conditioner services, from AC maintenance services, to AC tune ups, to repairs, to replacements, and everything in between:
Check refrigerant levels and recharge them if needed.
Inspect the fan motor. We can repair loose parts, add lubricants, and repair them as needed if it's not working correctly.
Check the thermostat. We can ensure your thermostat is working as expected to allow your AC unit to run correctly. We can also install new devices – including smart thermostats.
Inspect the condenser. If your condenser is leaking or needs to be repaired or replaced, we can take care of the work and get it operating correctly again in no time.
Check the compressor. We can also inspect your compressor and make sure it's working as expected and determine why there's a lack of airflow or cool air, if needed.
What To Consider When Choosing a New Air Conditioner
Buying a new air conditioner is not a decision you want to make lightly. Before selecting a new system, our AC contractors recommend considering the following criteria:
How many bedrooms are in your house.
The size of your home.
The type of windows you have – and how much sunlight and heat gets in.
What type of insulation you have.
How much sun your house gets.
When you need AC repairs, don't wait until you have more funds. Contact us to learn about our financing options.
Air Conditioner Installations: What Happens
When you need air conditioner installation services or air conditioner replacements, it's essential to know what to expect so you can prepare your family and household. Some steps our contractors will follow are:
Removal of your old system and inspection of your air ducts. Your old system must be removed before the new one can be installed. Once it's removed, technicians will also inspect the area and check out your air ducts to determine if they need any repairs.
Install the new system. The installation process can involve adding new piping, electrical, or ductwork, depending on what's needed to get the new unit properly installed.
Inspect your thermostat. As part of the installation process, the technicians will take a look at your thermostat and ensure it's working, or recommend installing a new one. You need a properly working thermostat to keep your new unit working correctly.
Test the system. Before leaving, the technicians will ensure the system is working properly. They will also make sure you know how to use the unit and will go through maintenance tasks you should perform on the system.
Recent Jobs and Reviews in Seminole, FL
When you need central AC repairs, and AC replacement services, call us at 727-431-5578 for appointments in Seminole, FL, and throughout Pinellas County. We offer same-day services.