Seminole, FL, Heating Services
Is your furnace malfunctioning? Call us at 727-431-5578 for heating maintenance appointments in Seminole and Pinellas County.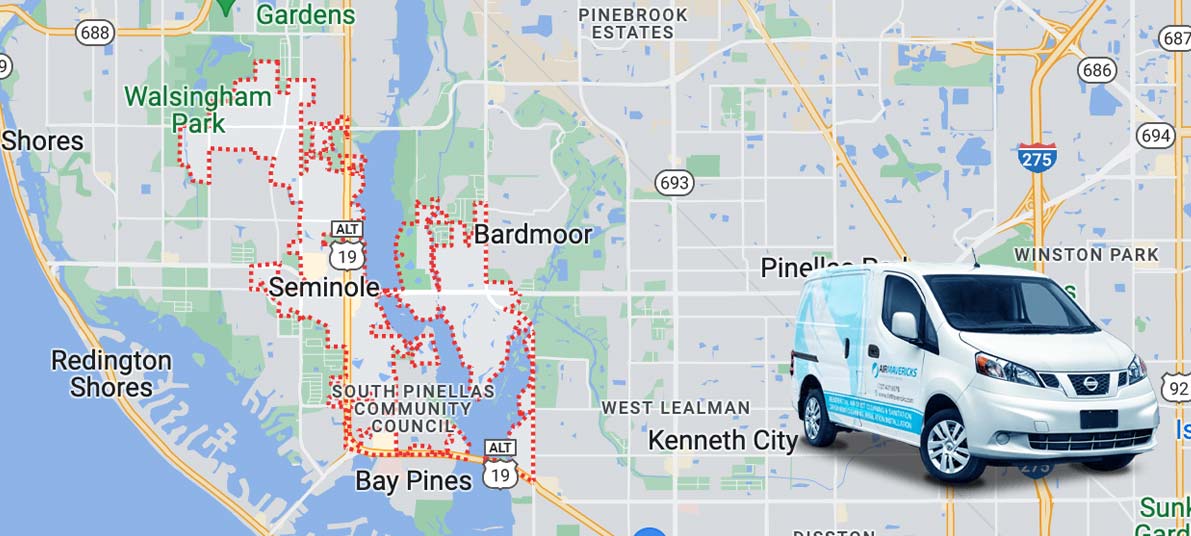 When you need heater tune ups or repairs, or furnace installation services, trust the work to the professionals. Schedule services with a trained expert as soon as possible to prevent a frigid and uncomfortable home all winter. Call Air Mavericks for furnace maintenance services in Seminole, FL. We offer same-day services to quickly restore comfort to your house.
We provide quality heating services to Seminole, including:
Heater repairs
Heater installations
Furnace repairs
Furnace installations
Heat pump services
Filter replacement services
Thermostat services
Commercial HVAC services
We love hearing from our customers. Read our testimonials to find out why they think we're the top heating repair company in Seminole.
Furnace Issues to Troubleshoot Before Calling Us
When your heating system encounters problems, you might be wondering when you need to schedule expert repairs and when it's something simple you can fix on your own. Before scheduling services, our heating contractors recommend troubleshooting these minor issues first:
Replace the filter: A dirty filter can cause your unit to malfunction, and it can result in lower indoor air quality.
Check your thermostat: Make sure your thermostat is set to Heating, and also that the batteries are working.
Check your electrical panel: Check your panel to ensure the circuit didn't trip.
Examine your vents: Make sure all of your vents are open and are not obstructed.
Why You Should Replace Your AC and Furnace at the Same Time
If your air conditioner and furnace are both showing signs of aging, is it better to replace them individually or at the same time?
Our contractors suggest changing them together. Doing them at the same time will typically save you some money on labor and other expenses. It also allows you to get all of the work done at once, preventing the need to disrupt your household a second time.
If you have questions about your air conditioner or heating system installation, call our experts at Air Mavericks.
Contact us to learn about the financing options we offer on furnace replacements.
When You Should Replace Your Furnace
How do you know when it's time to replace your furnace? There are signs you need to watch for that can indicate when you need to call a heating contractor to replace your system.
Age can be a major indicator. If your system is nearing the end of its lifespan, and it's been well-used over the years, it's time to start thinking about a heating replacement.
You should also watch your utility bills. If they keep going up and your usage hasn't changed, then it can indicate your unit is losing efficiency – and that it's starting to deteriorate.
If you're unsure if your unit needs to be replaced, call our furnace contractors to have them inspect the system and determine if you need to book a central heating installation.
Do you need heater replacements or furnace repairs? Call us at 727-431-5578 for appointments in Seminole and throughout Pinellas County. We offer straightforward pricing.