Our Service Areas
When you need air conditioning or heating services at your home, call us at 727-431-5578 for appointments in the Tampa Bay Area.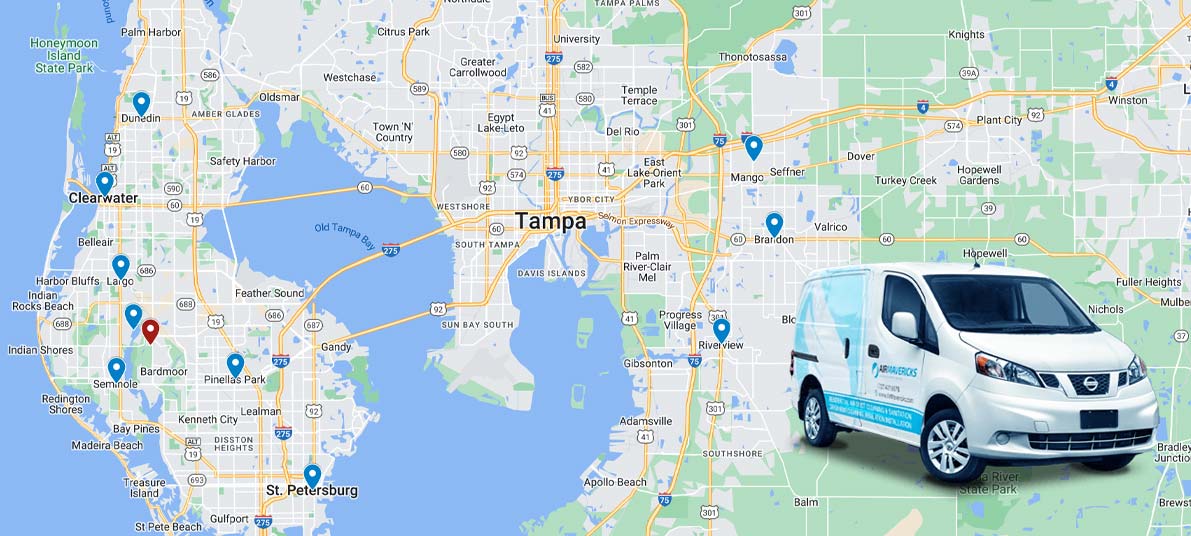 When your air conditioner malfunctions or your heater needs to be replaced, it's essential to schedule repairs with a trusted, local heating and cooling company. Call Air Mavericks for appointments in Tampa, FL. Our AC contractors perform quality work and offer same-day services for your convenience!
Proudly Serving Tampa & The Surrounding Areas
We provide quality heating and air conditioning services to the following areas:
We also offer services in the following cities:
Is it time to schedule a tune-up on your AC system? Schedule air conditioner installations with our experts.
How To Keep Your Air Conditioner Running Safely
You rely on your air conditioner to keep your home cool all summer. To protect your family, you need to ensure it's also running safely. Some tips our AC contractors provide to keep your air conditioner operating safely are:
Schedule a tune-up during the spring to identify any potential issues with your system.
Change the filter regularly, or at least every three months.
When having your unit serviced, disconnect all power sources.
Read the manufacturer's manual and follow all recommendations.
Pay attention to if your system starts running differently or making odd noises. This can signal you need to schedule professional services.
Dangerous Furnace Issues That Require Immediate Repairs
Your furnace can be one of the most dangerous systems in your house.
While there are numerous components that can malfunction and require repairs, one of the most dangerous issues a furnace can have is a cracked heat exchanger. If this occurs in your unit, you need to have it repaired immediately. This can lead to a carbon monoxide leak. This is extremely dangerous and can even be deadly to your household.
If you suspect you have a cracked heat exchanger, or if there are other issues that need to be repaired in your furnace, call our furnace contractors at Air Mavericks for services.
Make sure your home is prepared before cooler weather hits. Ask about central heating replacement today!
Benefits of Clean Air In Your Home
Is the air in your house clean and safe? There are many advantages to performing indoor air quality services in your home, including:
Improved respiratory health, as allergies, asthma, and other respiratory issues can be resolved.
Better sleep, as breathing in clean air can improve your sleep quality.
Increased energy and productivity as clean air promotes better oxygen intake that will improve your energy levels and your focus.
Enhanced comfort as clean air can make your home more comfortable, and it can reduce odors and stuffiness.
Does your air conditioner need to be repaired or replaced? Call us at 727-431-5578 for appointments in the Tampa Bay Area. We provide on-time services.