Hillsborough County Heating & Cooling Services
Do you need AC repairs or a heater tune-up? Call us at 727-431-5578 for appointments in Hillsborough County and the Tampa Bay Area.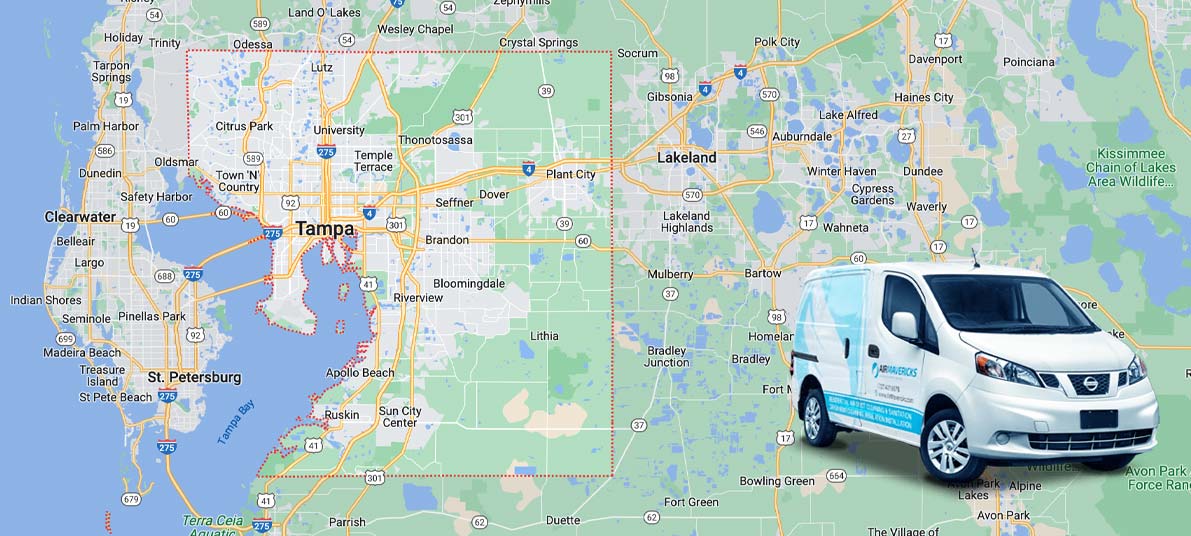 Don't endure a hot house all summer when your air conditioner malfunctions. You need to call for professional services at the first signs of a problem. Whether you need routine maintenance, repairs, or a replacement, let the experts help. Call Air Mavericks for appointments in Hillsborough County. Our AC contractors offer same-day services to the Tampa Bay area.
We provide quality heating and air conditioning services to Hillsborough County, including:
Air conditioner installations
Evaporator coil services
Air handler services
Heater repairs
Heater installations
Furnace repairs
Furnace installations
We offer service in the following cities across Hillsborough County:
Why call us when you need air conditioner repairs? Read our testimonials to find out.
Dangers of Operating an Old Furnace
When your furnace starts to show signs of aging, it can be dangerous to keep operating it in your house. These older systems can pose the following risks to your property:
Carbon monoxide poisoning: Sensors can degrade over time, leaving your family at risk of a carbon monoxide leak. This can be deadly, so it's essential to avoid these dangers.
Fire risks: The fail-safes in your unit can corrode as it ages, leaving your system at risk of a fire.
Gas leaks: Older units can be more prone to leaks than newer units. If a leak goes undetected, it can lead to health risks for your family.
Why Does My AC Unit Smell Musty?
Do you notice a musty odor when your air conditioner runs? If you think you smell old socks, you're not going crazy. It can be due to an issue with your air conditioner.
This odor is a common issue that can be due to bacteria growing in your unit. This typically occurs on the drain, evaporator coil, or in the drip pan.
If you notice the odor, you need to schedule professional air conditioning services to have the evaporator coil inspected so the issue can be resolved.
Don't delay repairing your air conditioner until payday. Contact us to learn about our financing options.
When To Replace Your Heater Filter
It's essential to replace your heater's filters frequently to keep your system functioning and properly heating your house. While neglecting to replace the filter once in a while might not seem like a big deal, it can actually have a large impact on your heater – even causing it to malfunction.
Prevent these issues by replacing your filters at least every three months. However, if you have pets, live in a city where there's more air pollution, or have a lot of dust in your home, you should replace the filters sooner.
Is it time to replace your air conditioner? Call us at 727-431-5578 for appointments in Hillsborough County. We provide straightforward pricing.