Pinellas County Heating & Cooling Services
When your air conditioner or furnace malfunctions, call us at 727-431-5578 for appointments in Pinellas County and the Tampa Bay Area.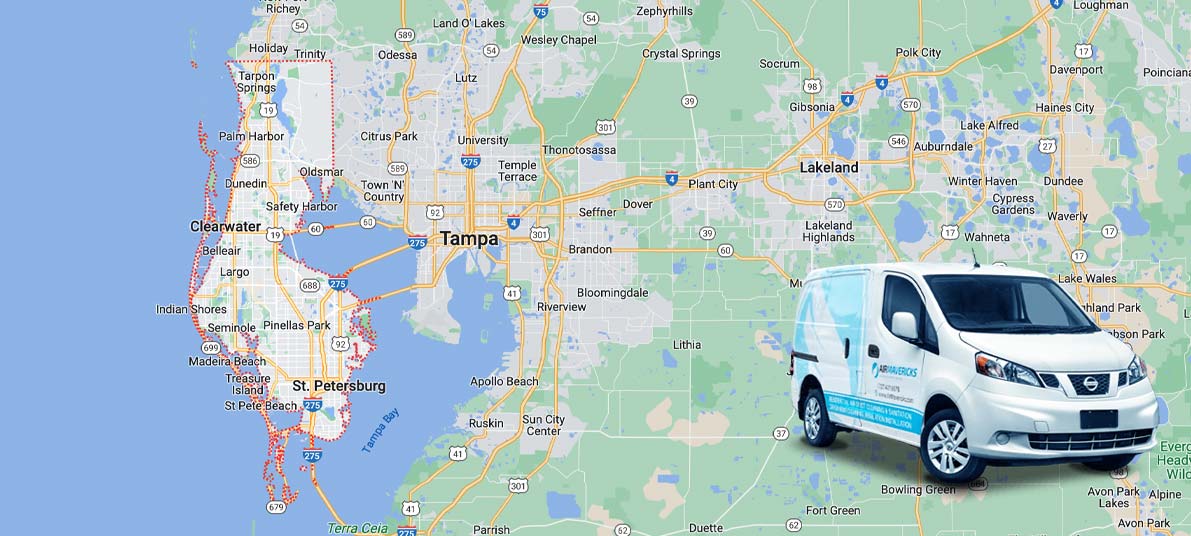 If you hear odd sounds coming from your air conditioner and your house feels warmer than it should be, then it's time to call in the experts. Have an AC contractor inspect your system and determine if it needs to be repaired or replaced. Call Air Mavericks for appointments in Pinellas County. Our technicians offer same-day services to get your system up and running again quickly.
We provide quality heating and air conditioning services to Pinellas County, including:
Air conditioner installations
Evaporator coil services
Air handler services
Heater repairs
Heater installations
Furnace repairs
Furnace installations
We offer services in the following cities across Pinellas County:
We offer quality AC services to Tampa Bay. Read our testimonials to learn about our work!
Why Does My Furnace Keep Turning Off
Is your furnace turning on and then quickly turning off before it properly heats your house? It's essential to call in the pros to inspect it as it can be due to numerous issues, including the following:
Low airflow. This can be caused by dirty filters, a dirty blower wheel, or blocked air vents.
Malfunctioning thermostat. Your unit can turn off unexpectedly if your thermostat is not working properly. Have a professional inspect the device to determine the problem.
Dirty sensor. If the flame sensor is corroded or is dirty, it can prevent your furnace from turning on, or turning off suddenly.
Tips To Keep Your Air Conditioner Functioning
Beat the Tampa Bay Area heat this summer with a fully functioning air conditioner. Our technicians recommend the following tips to ensure your unit works when you need it most:
Change your air filters.
Fix any leaks in your system.
Set your thermostat to keep your house at higher temperatures when you're away and turn it down when you return.
Add insulation to keep the cool air inside.
Schedule regular services on your compressor or condenser.
Schedule yearly tune-ups on your system.
Keep your doors open throughout your house to increase your airflow.
Is an unexpected AC replacement not in your budget right now? Contact us to learn about our financing options.
Should I Repair or Replace My Heater?
How do you know when you should keep paying to repair your heater versus when it's time to replace it with a new unit? There can be several symptoms to watch for, including:
If your unit needs a large, costly repair. At this point, it can be more cost-effective to install a new unit.
If you need frequent repairs.
If your unit is nearing the end of its lifespan.
When you need AC installation services or heater repairs, call us at 727-431-5578 for appointments in Pinellas County. We provide on-time services.