Clearwater, FL, Heating Services
When the weather turns chilly, make sure you're ready. Call us at 727-431-5578 for heater repairs in Clearwater, FL, and Pinellas County.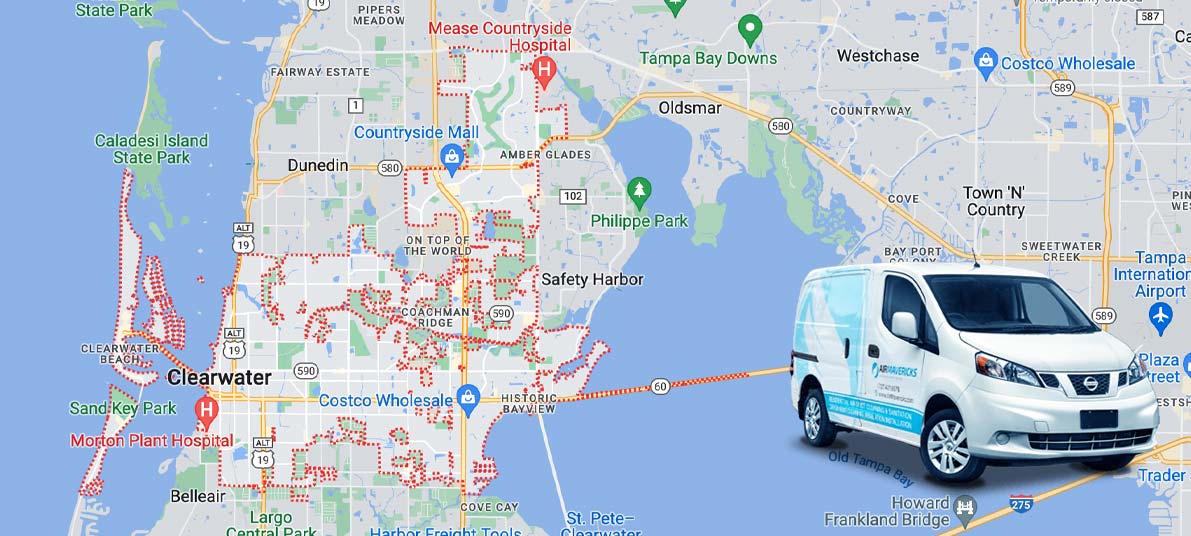 While we tend to worry more about our air conditioners in the Tampa area, homeowners should also ensure their heaters or furnaces work correctly to stay warm in the frigid winter months. When you need heater maintenance, repairs, or replacements, schedule an appointment with the pros! Call Air Mavericks for appointments in Clearwater, FL. We offer on-time services!
We provide quality heating services to Clearwater, including:
Heater repairs
Heater installations
Filter replacement services
Thermostat services
Heat pump services
Furnace repairs
Furnace installations
Commercial HVAC services
Read our testimonials to find out why your Clearwater neighbors call us when they need furnace repairs.
Get Energy Efficiency With a New Furnace
While installing a new furnace might not be at the top of your to-do list, it can provide a lot of benefits, including being more energy efficient than an older model.
These units have new features to allow you to have more control over the temperature in your home. It also runs more efficiently, allowing you to save energy and reduce your utility bills.
If you need a new furnace installed at your home, call our experts at Air Mavericks. They can perform furnace maintenance services and furnace repair services.
Furnace Not Turning On? Let the Experts Inspect It
Is your furnace not turning on, even when the temperature in your home dips below the setting on the thermostat?
This can signal you need to schedule furnace repair services. Our furnace contractors will check various components to get to the bottom of the issue.
First, they will make sure the circuit breaker is on. Then, they will check the thermostat to ensure it is working correctly. They will then inspect the air filters to see if they are dirty or clogged and need to be replaced.
If all of those areas are OK, they will then look inside the furnace and see if the ignition and pilot light are functioning. If they are OK, then they will keep inspecting your furnace to see what's causing the problem.
Are central heating installations not in your budget right now? We offer financing options to make unexpected heating replacements easier.
Why You Have Uneven Heating in Your Home
If you notice a range in temperature between various rooms in your house, you may need furnace or heater repairs.
Uneven heating indicates something is preventing your system from working correctly. Whether it's leaky ductwork or a problem with your unit itself, it needs to be inspected by a furnace contractor.
Our experts can perform heater tune ups, heating maintenance, central heating installation, and heating replacement appointments at your home. Call Air Mavericks to schedule an appointment with our heating repair company.
When you need heating repairs or furnace maintenance, call us at 727-431-5578 for appointments in Clearwater, FL, and throughout Pinellas County. We offer straightforward pricing.