Pinellas Park, FL, Cooling Services
When you need air conditioner tune up services or AC replacements, call us at 727-431-5578 for cooling services in Pinellas Park, FL, and Pinellas County.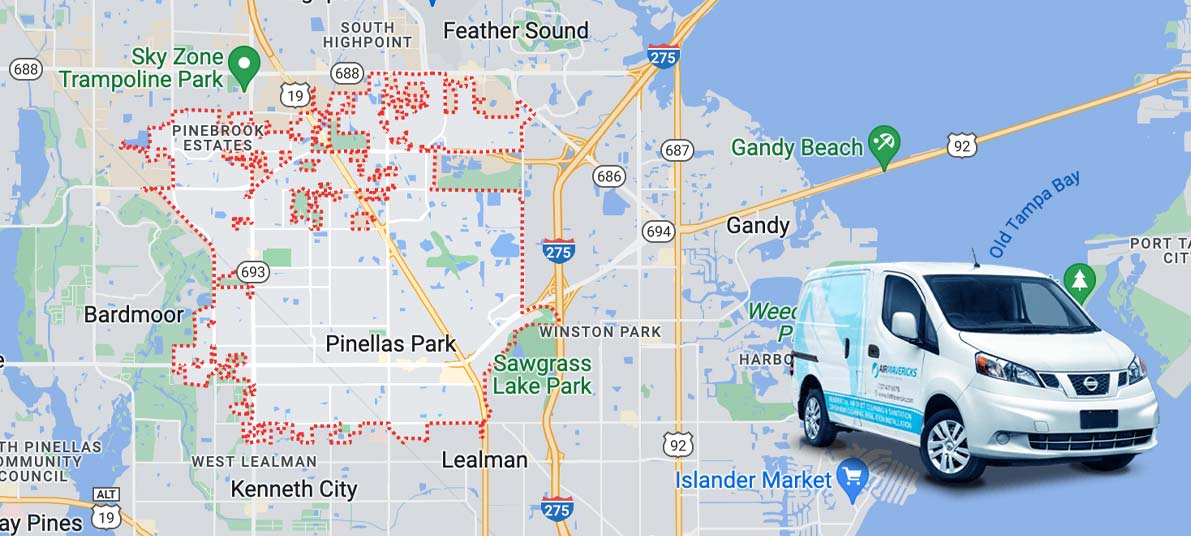 Is your air conditioner failing to keep your house cool? Are there odd noises coming from your system, or is there moisture leaking from your unit? It's essential to schedule expert AC repair services as soon as possible. Call Air Mavericks for appointments in Pinellas Park, FL. We guarantee 100% satisfaction.
We provide quality cooling services to Pinellas Park, including:
Ductless mini split AC system
AC refrigerant leak services
Thermostat services
Evaporator coil services
Air handler services
Commercial HVAC services
Read our testimonials to see why your Pinellas Park neighbors call us for central AC repairs.
When To Install a Ductless Mini Split System
Is your house a good candidate for a ductless mini split system? There are many factors that our AC contractors consider, including:
Your home doesn't have a central HVAC system or ductwork installed.
You want to heat or cool an area that's not connected to your central system, like the garage.
You want to install a system that doesn't use ductwork.
You want to control the temperature in specific areas of your home.
You live in an area that doesn't experience extreme hot or cold temperatures.
Reasons an AC System Isn't Cooling Your House
If your central air conditioner running, but there isn't cool air blowing out your vents, and your house is not cooling down?
This can signal an issue with your air conditioner.
One of the most likely reasons is you simply need to recharge your refrigerant. If your refrigerant is too low, your system cannot work properly to cool your house.
To determine if a lack of freon is causing the problem, or if there is another issue, it's essential to schedule an appointment with our experts at Air Mavericks. We can perform AC maintenance services, AC tune ups, and full air conditioner repairs.
Don't delay air conditioner repairs until payday. Ask us about our financing options.
Common Problems That Can Cause Air Handlers to Malfunction
When your air handler malfunctions, it can prevent your air conditioner from working properly. Some of the most common problems our AC contractors encounter with air handlers are:
Clogged air filters. These can require your unit to work harder than it needs to.
Cooling coils that are clogged by dirt and dust. This can cause your system to malfunction.
Worn or faulty fan belts. These need to be replaced to ensure your system is functioning properly.
A burnt-out blower motor. A professional can inspect the issue and make the repair.
Recent Jobs and Reviews in Pinellas Park, FL
When you need professional AC repairs and maintenance, call us at 727-431-5578 for appointments in Pinellas Park, FL, and throughout Pinellas County. We offer same-day services.