St. Petersburg, FL, Cooling Services
Don't delay when you need air conditioning repairs. Call us at 727-431-5578 for appointments in St. Petersburg and Pinellas County.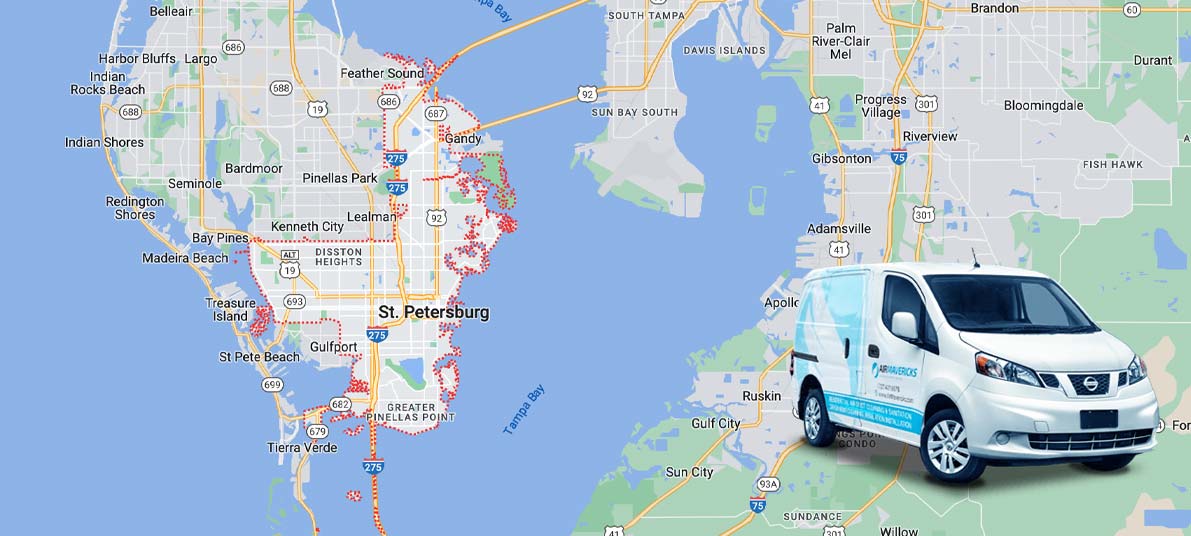 When the summer heat arrives, don't be caught with a malfunctioning air conditioner. This can leave you in a hot and humid house all summer. Instead, schedule professional repairs with an expert at the first signs of a problem so they can repair it quickly and restore comfort to your house. Call Air Mavericks for central AC repair appointments in St. Petersburg, FL. As the top AC repair company in Tampa Bay, we offer same-day services.
We provide quality cooling services to St. Petersburg, including:
Air conditioning installations
Ductless mini split AC system
Air handler services
AC refrigerant leak services
Evaporator coil services
Thermostat services
Commercial HVAC services
Read our testimonials to find out why your St. Petersburg neighbors call us for AC repairs.
What To Ask During Your AC Maintenance Services
A central air conditioning tune-up gives you the opportunity to ask an AC contractor questions about your system, including:
Why is the airflow weak coming from my system?
Why is my house suddenly more dusty than usual?
Where is my air filter located and how do I change it?
What type of filter should I use in my system?
How can I keep my unit running but also reduce my utility bills?
AC Maintenance Must-Dos
It's essential to keep your air conditioner properly maintained to ensure it works when you need it most in the heat of summer. To ensure your unit works correctly, make sure to perform these maintenance tasks:
Clean and replace your air filters regularly. This should be at least every three months but can vary based on your household.
Check your ductwork for leaks and have them cleaned regularly.
Schedule yearly professional maintenance appointments.
Do you need help paying for your AC repairs? Ask us about the financing options!
How To Prepare For Your Air Conditioner Installation
When you schedule air conditioner installation or replacement services, it's essential to make sure you are properly prepared for the services.
Before your AC replacement services, it's important to first clean your air ducts and ensure they are properly sealed. You also need to clear a path and space for the new AC system. Make sure the installers can easily access the system and the space. You should also ensure there is a clear path for the contractors to access the thermostat.
If you have questions about your AC installation services, call our technicians at Air Mavericks.
Recent Jobs and Reviews in St. Petersburg, FL
Job Locations and Reviews
Air Conditioning Installation
When you need AC tune up, repairs, or replacements, call us at 727-431-5578 for appointments in St. Petersburg and throughout Pinellas County. We offer on-time services.