Riverview, FL Cooling Services
Is your air conditioner leaking? Call us at 727-431-5578 for air conditioner maintenance and central AC repair services in Riverview, FL, and Hillsborough County.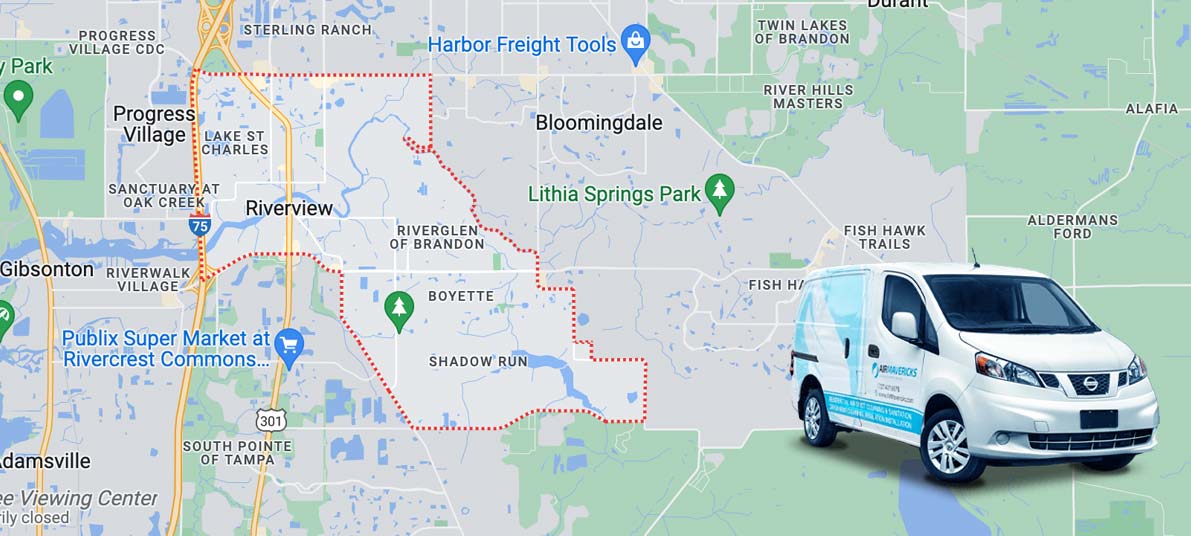 When your air conditioner shows signs that it's not working correctly, you need to schedule AC repairs and air conditioner maintenance as soon as possible. The sooner you book an appointment, the faster you can get your unit working correctly and restore comfort to your house. Let our AC contractors handle the work. Call Air Mavericks for appointments in Riverview, FL. We offer same-day services.
We provide quality cooling services to Riverview, including:
Commercial HVAC services
Thermostat services
Air conditioning repairs
Air conditioning installations
Ductless mini split AC system
Evaporator coil services
Air handler services
AC refrigerant leak services
Why call us for air conditioner services? Read our testimonials to find out.
Questions To Ask During Air Conditioner Installation
When you buy a new air conditioner, it's essential to ensure you are selecting the right system for your property and that you know what to expect with the unit and the installation services.  Some questions you should ask the technicians before your installation include:
Is the unit under warranty?
Is this unit energy-efficient?
How experienced are your technicians?
How long will the installation take?
What maintenance should I perform on the unit?
If you have questions about your air conditioner installation, ask our technicians at Air Mavericks.
Why You Need an AC Tune up
While air conditioners can malfunction at any time, there are some steps you can take to try to avoid unexpected breakdowns, including scheduling an annual tune-up.
When the technicians perform a tune-up, they can then identify other issues with your unit and repair them before they turn into larger problems. This can help you prolong the lifespan of your unit and make it run more efficiently – lowering your utility bills.
If you need to schedule air conditioner maintenance services, call our AC contractors at Air Mavericks.
We offer financing options to help you pay for your unexpected AC repairs and replacements.
How To Ensure Your AC Is Energy-efficient
One of the biggest benefits of installing a new air conditioner is that it can be more energy efficient than an older system. So how do you know if your new unit is an energy-efficient model?
While our AC contractors can help you select the right unit, you can also look at the SEER rating. The higher it is, the more efficient the system is.
When you're looking for a new unit, call our technicians at Air Mavericks for AC replacements.
Recent Jobs and Reviews in Riverview, FL
Is your air conditioner malfunctioning? Call us at 727-431-5578 for AC repairs and AC maintenance services in Riverview, FL, and throughout Hillsborough County. We offer on-time services.