Riverview, FL Heating Services
Do you need a furnace tune up or a central heating installation? Call us at 727-431-5578 for services in Riverview, FL, and Hillsborough County.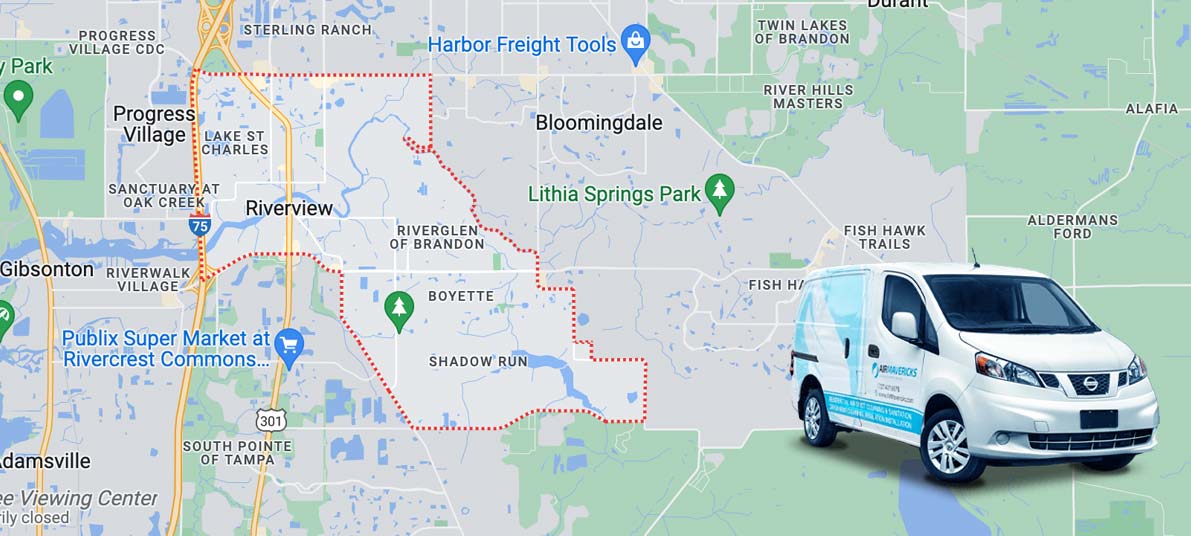 Does your house feel frigid, even when the furnace is running? Your heating system may need a tune-up or repairs. To ensure your furnace is working correctly, have it inspected by a technician as soon as possible to quickly restore comfort to your house. Call Air Mavericks for furnace repairs and heating replacements in Riverview, FL. We offer same-day services.
We provide quality heating services to Riverview, including:
Commercial HVAC services
Heater repairs
Heater installations
Filter replacement services
Heat pump services
Furnace repairs
Furnace installations
Thermostat services
Read our testimonials to find out why we're the No. 1 heating repair company in Riverview.
What Does the Flame Sensor in Your Furnace Do?
Inside your furnace is a flame sensor. This device has an important duty –  it detects a flame in your system. If it can't detect one, then your furnace will not turn on.
Flame sensors are added to your systems as a safety measure. It will close the gas valve if there isn't a flame present to ignite the furnace. This will prevent a gas buildup in your unit and your house.
It's important to note that the sensor can get dirty and needs to be cleaned frequently. If it's dirty, it will not be able to function properly. Typically, furnace contractors will clean it during your annual furnace maintenance services.
Signs Your Blower Motor Is Malfunctioning
The blower motor in your furnace ensures the warm air the unit produces is carried throughout the house. If it malfunctions, your house will not heat to the desired temperature. Some signs you can watch for include:
Poor airflow from your vents: If you're noticing a lack of air coming from the vents, it can be the first indication of a problem.
No airflow from your vents: If there is no airflow at all coming through your vents, then you know there's an issue.
Higher energy bills: Increasing energy bills can signal your unit is overworking to keep your house warm.
Strange noises: If you hear odd sounds coming from the unit when you turn on the heat, it can signal a problem.
Odd smells: If you notice smells of burning or overheating, you should have your unit inspected.
We offer financing options to help with unexpected heater installations. Contact us to learn more.
Common Questions To Ask About Heat Pumps
When considering a heat pump installation, it's important to understand all of the ins and outs of the system – from how it works to what maintenance needs to be performed on it. Some questions our heating contractors recommend asking before buying a system include:
How often should I have it professionally maintained?
What maintenance should I perform on my own?
Is my house better suited for a heat pump or a furnace?
What can I expect during the installation process?
What is the lifespan of a unit?
What signs can indicate it's malfunctioning?
What's the difference between SEER and HSPF?
Do you need heating maintenance or furnace repairs? Call us at 727-431-5578 for appointments in Riverview, FL, and throughout Hillsborough County. We offer straightforward pricing.